NoteCase Pro (by Miroslav Rajčić) is a professional Outliner application for Windows, Linux, Mac, Open Solaris, FreeBSD and various mobile platforms, such as Nokia Maemo and the Pandora.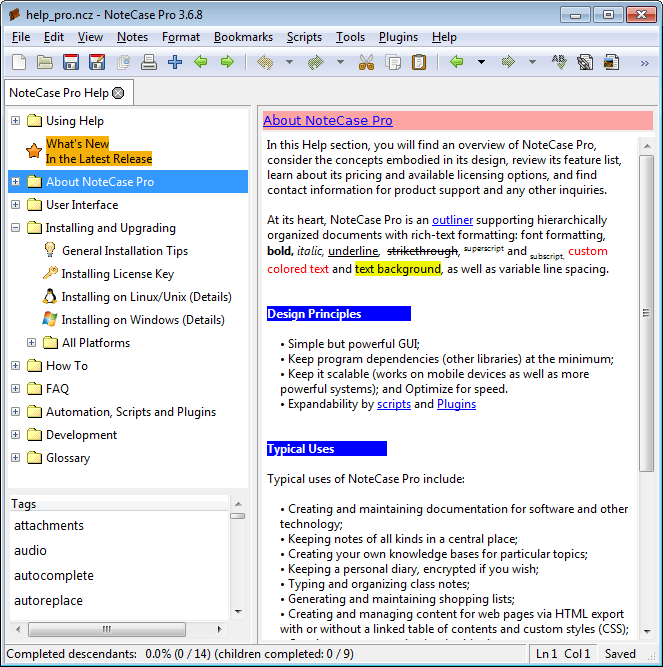 What is an Outliner good for?
An Outliner (see Wikipedia article) is a tool to manage information in a hierachical way. This is similar to Mindmapping (English definition, German definition), with the major difference that the outline tree is not presented as a map, but as a nested list with indentations.


Some NoteCase Pro usage examples:
Note collection:
No cluttering of notes on your desktop anymore


Quick brainstorming:
Configurable keyboard shortcuts make usage very efficient


Knowledge base / Information archive:
With excellent search features it's easy to find information


Structuring, Authoring and Publishing:
Books, papers, quick website generation. Due to preset CSS style sheets, that can be embedded on exporting as HTML, NoteCase Pro can even be used as a CMS with nicely formatted HTML output. Just upload the output to your web server.
Todo lists and advanced task management:
Incl. reminders, priorities, different task views, sorting etc.


Advanced task management:
For example using the "Getting Things Done" Plugin


Diary:
Using the strong file encryption feature for data privacy, date/timestamp journalizing features etc.


Taking minutes of meetings or dialogues:
With CSS-supported HTML export feature you can rapidly generate a meeting report to be sent to the participants


Password safe:
Using strong encryption


Project management:
For documents with hierarchical structure ("breakdown structure"), and as a general project overview tool. Also for project task management using the "Getting Things Done" Plugin


Anything else:
NoteCase Pro is scriptable, meaning that you can enhance NoteCase Pro by your own features easily


And NoteCase Pro is even the development environment for NoteCase Pro Plugins:
e.g. using the "Plugin Developer Tools" Plugin